COVID-19 Information for Patients, Visitors, & Families
Welcome to Helen Hayes Hospital.
Please note that although we realize the benefit of your visit to our patient, we require that you follow the rules that we have developed. These rules were established with an abundance of caution to ensure the safety of all patients, families, and staff.
Please have your driver's license available for check in. Visitors will be required to provide contact information including name and telephone number, as per the New York State Department of Health guidelines.
Potential risks and benefits of visitation are as follows:
Risk: COVID-19 is a contagious disease. It spreads quickly and can be dangerous, especially to people who are seriously ill or living with chronic conditions. A person can have COVID-19 with mild symptoms and unknowingly spread it to others.
If you are experiencing any signs of any illness, do not visit.
Benefit of Visitation: Comfort and encouragement.
Visiting hours
12:00 pm to 8:00 pm
COVID-19 Visitation Safety Plan 
+ Helen Hayes Hospital Skilled Nursing Facility (SNF) and Transitional Care Unit (TCU) COVID-19 Visitation Safety Plan: 
For information on visitation to the Skilled Nursing Facility or Transitional Care Unit at Helen Hayes Hospital, including up to date covid testing requirements for visitors, please click HERE. 
+ Helen Hayes Hospital Visitation Safety Plan (For All Units Except SNF & TCU):
Two visitors are permitted at a time. Visitors must be 12 years and older.  Visitors under the age of 16 must be accompanied by an adult.  Visitors must check out at the front desk before leaving to open up availability for the next visitors to register and visit.
The following safety protocols have been put in place in order to best protect our patients, staff, and families. We are happy to welcome visitors to Helen Hayes Hospital and we appreciate your patience, understanding, and cooperation.
Upon entering the hospital, you will be screened for symptoms and temperature.
Visitors must be 12 years and older. Visitors under the age of 16 must be accompanied by an adult.
Visitors must follow New York State guidelines, maintain social distancing (6 feet apart), and must follow all staff instructions regarding specific precautions for each patient.
Visitors must wear a face mask at all times throughout their time at the hospital and it must cover both the nose and the mouth.
When visiting hours are over, all visitors must promptly leave the hospital.
Visitation is contingent on compliance with these guidelines.
Visitors who are unable to adhere to the core principles of COVID-19 infection prevention will not be permitted to visit and will be asked to leave.
Thank you for your cooperation.
Helen Hayes Hospital is pleased to continue the provision of outpatient physical therapy, occupational therapy, and speech therapy services at the hospital. As our patients participate in their eagerly anticipated rehabilitation programs, the hospital has put in place a comprehensive COVID-19 prevention plan to ensure the highest level of safety for our patients working toward their important rehab goals.
We ask that all individuals receiving outpatient therapy at Helen Hayes Hospital kindly refer to the following guidelines regarding their upcoming visit: 
All outpatients will receive a pre-visit health screening over the telephone. Sick patients will be asked to reschedule their appointments for a time when they are well.
Pre-registration will be completed over the telephone prior to the scheduled appointment. If needed, insurance cards and/or payment will be collected from the patient in the treatment room at the time of the appointment.
Patients are asked to arrive 15 minutes prior to their appointment and call the number they were given at the time of appointment to check in. Once checked in, they will remain in their cars until they receive a phone call from their therapist. The therapist will instruct the patient to proceed to the main entrance of the hospital (south entrance), where they will be escorted inside. Patients will then participate in a question and answer health screening and a temperature check before being escorted to their therapy location. Any patient needing assistance from their car should indicate their needs to their therapist.
At the completion of the therapy session, the therapist will escort the patient back to the hospital entrance.
Patients must arrive at the hospital wearing a mask or other appropriate face covering and must remain masked for the duration of their time at the hospital.
Entrance to the hospital will be for patients with appointments only; no one else will be permitted to enter with the patient.
In addition to these guidelines, Helen Hayes Hospital has taken the following precautions to adhere to social distancing and sanitization guidelines:
Therapy rooms have been reconfigured to ensure social distancing is maintained at all times. Appointments have also been staggered to limit traffic in therapy areas.
Therapy equipment and therapy areas are thoroughly cleaned and sanitized daily and between each appointment. The amount of time between appointments has been extended to allow for enhanced sanitizing.
Hand sanitizer will be available for all patients in treatment areas.
All hospital staff are subject to mandatory screening, including temperature screening upon admission to the hospital.
All hospital staff are required to mask in patient therapy areas and follow frequent hand washing/sanitizing protocol.
All on-campus events, including support groups, student programs, clinical rotations, wellness programs, and on-campus sports events remain cancelled until further notice.
Thank you for your attention to and cooperation with these guidelines.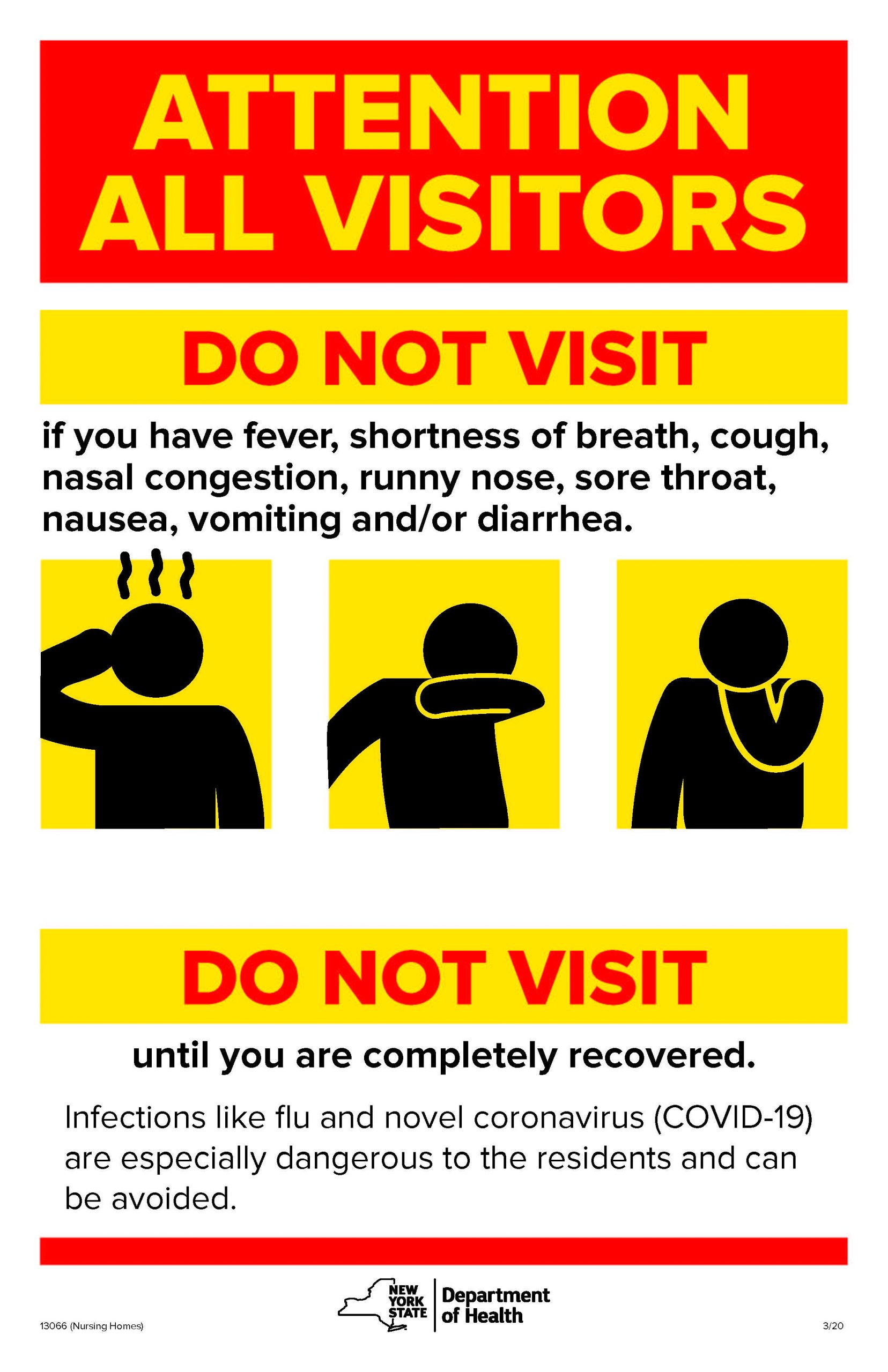 SNF Notification to Family or Next of Kin: 
CMS Guidance OSO-20-29 NH
TCU Notification to Family or Next of Kin: 
CMS Guidance OSO-20-29 NH
Residential Health Care Facility &
Transitional Care Unit Pandemic
Emergency Plan:
The Helen Hayes Hospital Residential Health Care Facility and Transitional Care Unit follows effective strategies for preventing infectious diseases and has developed the Pandemic Emergency Plan (PEP) detailed HERE.