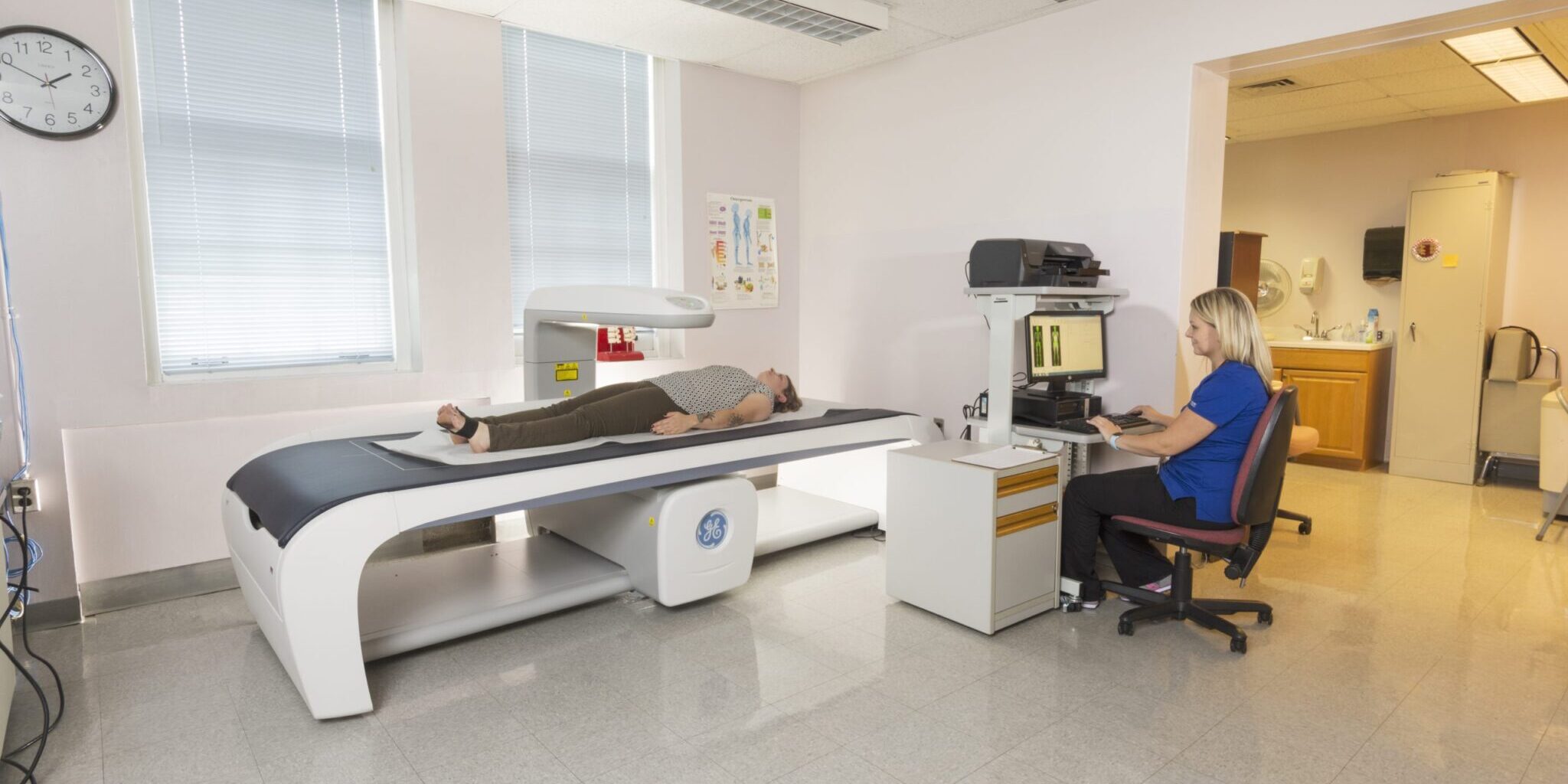 A Comprehensive Approach to Osteoporosis Care
Helen Hayes Hospital is internationally recognized as a leader in the prevention, diagnosis, and treatment of osteoporosis.
Osteoporosis is a disease that causes weakening of the bones and a loss of bone mass, often resulting in debilitating fractures and disability. Affecting both males and females, the disorder is most prevalent among post-menopausal women.
The Osteoporosis Treatment program provides a full range of services including:

+ Bone Density Testing
State-of-the-art bone densitometers evaluate a person's risk for osteoporosis and measure current bone mass. A bone density test is a simple, low-dose X-ray test that can easily diagnose osteoporosis. At menopause, all women are urged to discuss the need for a bone density test with their healthcare provider, and all women should have the test by age 65. After the age of 70, all men should also have a bone density test. Please call 845-786-4194 to schedule an appointment for a bone density test, available with a prescription from your doctor.

+ Education
New York State Osteoporosis Prevention and Education Program (NYSOPEP): As the Statewide Osteoporosis Resource Center, the team at Helen Hayes Hospital is a leader in educating healthcare professionals, other public health educators and the public about the causes of osteoporosis, the value of prevention, early diagnosis, and options for treatment. NYSOPEP professionals are responsible for developing and disseminating current and accurate information about osteoporosis, as well as establishing and providing training and education programs. Visit www.NYSOPEP.org, call the NYSOPEP office at 845-786-4772, or email info@nysopep.org for more information.

+ Physical Therapy
Therapists who specialize in exercise and nutrition for bone health, postural strengthening, balance training, and rehabilitation following a fracture are available in inpatient and outpatient departments.

+ Exercise Classes
Strong Bones Stronger Me is an evidence based exercise program designed for individuals with Osteoporosis. Call 845-786-4772 or email info@nysopep.org for more information.
Exercise in the hospital's Wellness Center, are available to maintain strength and improve posture, balance and flexibility

+ Support Groups
The osteoporosis support and education group meets every third Thursday of the month. Speakers educate participants about the latest medications, nutrition, exercise, fall prevention, and safety strategies for strong bones.
The Osteoporosis Center is staffed by a diversified team of specialists, including a physician with specialties in endocrinology and internal medicine, radiation technologists, and physical therapists.
Individuals with following risk factors for osteoporosis can benefit from a bone density test or an appointment with our osteoporosis specialist:
Women older than 65 or men older than 70
People of White or Asian races
Women who have reached menopause
Family history of osteoporosis or fractures
Fracture after the age of 50
Loss of more than 1 1/2 inches of height
Lack of physical activity
Lack of calcium-rich diet
Smoking
Taking more than two drinks of alcohol several times a week
Use of steroid medications
Rheumatoid arthritis
In addition to osteoporosis, the program can help individuals with other metabolic bone diseases, such as Paget's disease, renal bone disease, osteomalacia (rickets), parathyroid disorders, or osteogenesis imperfecta.
For information on Osteoporosis Treatment at Helen Hayes Hospital, or to schedule an appointment for a bone density test call:
845-786-4194
1-888-70-REHAB, ext 4194
"You gave me the help I needed to recover and rebuild my confidence in myself to handle the challenges I'm about to embark on for the rest of my life." 
For more information, please contact the
Helen Hayes Hospital Osteoporosis Center:
1-888-70-REHAB ext. 4410
845-786-4410