Better Speech & Hearing Month – Connecting People
May 23, 2022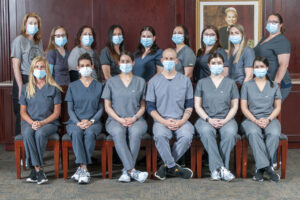 Each May, Better Speech and Hearing Month provides an opportunity to raise awareness about communication disorders and the vital work of speech language pathologists. This year's theme of "Connecting People" reminds us that speech therapy provides individuals with the tools to connect with and enjoy the world around them, whether through verbal speech, adaptive/augmentative communication, or safe swallowing and eating.
Speech therapists work with patients in a variety of settings—from inpatient and outpatient settings to in-school or at home—to help develop, rebuild, and/or maintain critical communication and swallowing skills. Deficits in these skills can be caused by a number of conditions, including congenital syndromes, development disorders, injuries, or illness. Many people are unaware of the large number of areas that speech therapists can help their patients with, which may include:
Speech – People with speech problems may not say sounds clearly or smoothly. This may make it difficult for others to understand them.
Language – A person with a language disorder may have problems with expressing themselves, understanding others, and reading and/or writing.
Cognition – This can involve difficulties with attention, memory, problem-solving abilities, organizational skills, and judgment.
Voice – Hoarseness, breathiness, pain, frequent coughing, and other problems with a person's voice may result from medical problems or from overuse or misuse (certain professions—like teachers, musicians, and coaches—are at greater risk).
Augmentative and Alternative Communication – People may need or choose to use other ways to communicate besides talking. These include no- or low-tech and high-tech options such as pointing or gesturing, using picture boards, and using speech-generating devices.
Feeding and Swallowing – Difficulties may include coughing or gagging during meals, food or liquid leaking from the mouth, or food getting stuck in the mouth or throat. These difficulties may occur due to preterm birth, developmental disabilities, medical conditions, and illness and injury.
Gender-Affirming Voice and Communication – This area may focus on pitch, tone, vocal health, nonverbal communication, and more.
Communication Coaching – Some SLPs help with public speaking and communication style, which may include learning another accent.
At HHH, we are so grateful for our skilled speech therapists who not only provide our patients with a comprehensive range of speech language therapy services, but who are always working toward advancement in their field to provide the latest therapy modalities for their patients (most recently, our inpatient speech team has set a goal to have every SLP trained on state-of-the-art Fiberoptic Endoscopic Evaluation of Swallowing or FEES!) During Better Speech and Hearing Month and always we recognize the essential role our speech therapists play in our patients' recoveries and thank them for their important contributions to our Hospital.
To learn more about inpatient or outpatient Speech Therapy at Helen Hayes Hospital, visit us online HERE or call 1-888-70-REHAB.