The HHH Clinical Laboratory – Who is Running My Lab Tests?
April 26, 2022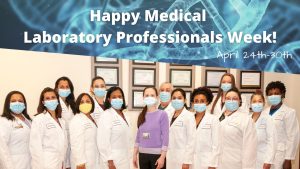 The Clinical Laboratory at Helen Hayes Hospital is licensed by the New York State Department of Health, and accredited by the College of American Pathologists (the "Gold Standard" of clinical laboratory accreditation).  The Lab is inspected every two years by each of these agencies so we are inspected every year!
The personnel running your lab tests are all licensed by the New York State Department of Education as Clinical Laboratory Technologists.  In order to qualify for this license, they must have a minimum of a Bachelor's degree in a field related to the clinical laboratory sciences and now must pass a licensing exam. In addition to a license, some of our staff also holds certification as a Medical Laboratory Scientist from The Board of Certification of The American Society for Clinical Pathology – MLS (ASCP).
We run tests in Hematology, Chemistry, Endocrinology, Therapeutic Drug Monitoring, Urinalysis and Microbiology on blood, urine, feces and other specimens. We use Molecular PCR Technology to perform some of our Microbiology testing procedures, including Covid-19. When a licensed Technologist joins our staff, they go through a training period of about three months before they start reporting results on their own. We also have an extensive program of continuing education to ensure that we employ the latest tests and lab techniques.
The lab is overseen by a Laboratory Director who is a Pathologist (MD),and is Board Certified in Clinical Pathology. Our Director comes to us from Columbia University Medical Center/New York Presbyterian Hospital where she has clinical, academic and research responsibilities. The Director and Technologists are available to the Medical and Nursing staff to assist in ordering and interpreting the wide variety of tests that are available today.
The Helen Hayes Hospital Clinical Laboratory is highly computerized with the use of Iatric MobiLab software for positive patient identification, positive specimen identification, and specimen label printing at the bedside. By utilizing wireless handheld and printer technology at the bedside, MobiLab is designed to reduce patient identification and specimen labeling errors, while increasing the productivity of our phlebotomy staff.  Our analyzers read the barcodes with a near 0% error rate.  In addition to the Technologists reviewing all results, computers track results and flag anything that appears to be very abnormal or inconsistent with previous results – these are then repeated and verified, and then communicated to the Medical and Nursing staff promptly.  When testing is completed reports go to the clinical staff by computer.
-Lourdes Fernandez (Jackie), CLT(NYS), Laboratory Manager