Nutrition Spotlight: The Benefits of Bananas
November 6, 2020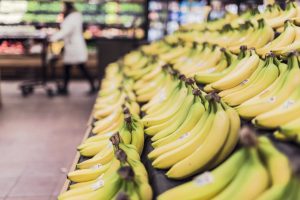 Helen Hayes Hospital's Director of Dietary Services, Catherine Golub, MS, RD, sat down with us to share information on bananas and the myriad of ways to enjoy the vitamin-packed fruit. Read on for health info, preparation tips, and Cathy's nutritious and delicious recipes!
Name a tasty, portable, nutritious snack that is inexpensive and versatile. Bananas offer 3 grams of fiber and over 400 mg potassium— nutrients that scientists agree we should try to increase in our diets for the heart health benefits. Bananas are also packed with vitamin B6, which supports the immune and nervous system. All this packed in a 100-calorie package. What's more is the versatility of bananas that have gone past their prime.
Freezing peeled, over-ripe bananas is a great way to reduce food waste while having a stash of nutrient packed ingredients for smoothies, baked goods, or spreads. Frozen mashed bananas add a frosty base to a variety of fruit, dairy, or plant-based smoothies. Transform quick breads by replacing part or all of the fat and 1/3 of the sugar with ripened banana. Or try a tropical banana/avocado spread that can be used as a dip, sandwich spread, or side sauce for fish, chicken, or meat.
Cathy's Post Run Replacement Smoothie
*This smoothie contains the perfect ratio of carbohydrate and protein to replenish muscle glycogen.
1 medium banana, frozen
1 cup skim milk
2 tsp chocolate syrup
Directions:
Place in blender until smooth and creamy.
Calories: 219 kcal, Protein: 8gms, Carbohydrate: 47gms, Potassium: 782mg, Calcium: 298mg
Banana/Avocado Salsa
¼ cup onion, finely chopped
1 ripe, peeled banana
Ground cumin ½ teaspoon
2 avocados, cubed
Lime juice
Salt to taste
Directions:
Mash banana, onion, and cumin together in bowl.
Mix in avocado, salt to taste, and sprinkle with lime juice to prevent browning.
Per 4oz serving (approx. ¼ of the recipe):
Calories: 138 kcal, Carbohydrate: 12gms, Fat: 10.5gms, Fiber: 5.4gms, Potassium: 445mg