Preparing a Smaller Thanksgiving Celebration
November 25, 2020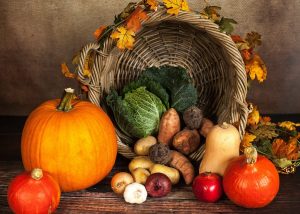 This holiday season will feature smaller gatherings for that holiday meal and undoubtedly less hands to prepare a magnificent feast. The following are suggestions to help you keep the festive feel with dishes made for a smaller family meal.
Smaller turkeys will definitely be in demand this year, so shop early if you can. Consider choosing Turkey pieces rather than an entire bird. Not only will you have less mess, your turkey will take a fraction of the time in the oven. Defrosted turkeys take approximately 20 minutes per pound.
With less guests coming to visit, you may miss the variety and abundance of all of your favorite side dishes. Try roasting several of your favorite root vegetables on the same sheet pan. Prep and season each differently to add variety. See the recipe below.
Consider downsizing your desserts into individual portions. Choose a variety of individual tartes, mini cakes or individual mousses and arrange on a platter for visual appeal. If you're a baker, make smaller versions instead of the traditional full-sized pie. Special note: Almost all baked pastry and desserts freeze very well to save for another time.

Sheet Pan Root Vegetables
Gather three or four bowls with lids. You will be shaking the veggies vigorously in these bowls so make sure the lid snaps on tightly.
Preheat oven to 350
Prep your favorite root vegetables for roasting. Wash exteriors of all vegetables and pat dry. Peel and trim carrots, squash, potatoes (or leave the peel on), beets, parsnips etc.
Line one or two baking sheets with parchment or aluminum foil and coat lightly with oil.
Season each vegetable group by placing vegetables in a bowl, add 1-2 tsp of olive oil, sprinkle with seasoning. Cover tightly and shake to thoroughly coat the vegetables.
Transfer onto pan leaving room for other vegetables.
Continue with remaining vegetables, keeping at a single layer.
Place in oven and roast for 25 minutes, or until tender.
Below are some vegetable seasoning combinations, but feel free to get creative:
-Brussels sprouts with thyme or herb de Provence
-Leeks with olive oil and sea salt
-Carrots with clove and cinnamon (you can also add raisins)
-Beets with crystalized ginger (or ground ginger)
-Baby potatoes with rosemary
Catherine Golub, MS RD, Director of Dietary Services, Helen Hayes Hospital