Helen Hayes Hospital Cardiologist Receives National Award
October 2, 2012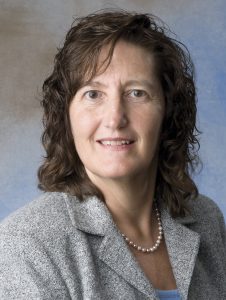 Marjorie L. King, MD, MAACVPR, FACC, Director of Cardiopulmonary Rehabilitation Services at Helen Hayes Hospital, is the recipient of the 2012 American Association of Cardiovascular and Pulmonary Rehabilitation L. Kent Smith Award of Excellence. The Award is AACVPR's most prestigious award and is given in recognition of outstanding contributions by an individual to the fields of cardiac and/or pulmonary rehabilitation.
Dr. King has served at Helen Hayes Hospital for 28 years. Over that time, she has developed a comprehensive cardiopulmonary rehabilitation program that has been nationally recognized for outstanding patient outcomes, with over 90% of patients being discharged directly home. The acute inpatient rehabilitation program serves individuals recovering from complicated hospitalizations for heart or lung disease or surgery. As a continuum to this inpatient care, she implemented an Outpatient Cardiac Rehabilitation Program that earned AACVPR Program Certification in its very first year, along with a cardiac, peripheral artery disease and pulmonary Wellness Program with over 250 members. In 1995, Dr. King was instrumental in developing an Outpatient Pulmonary Rehabilitation Program.
Dr. King leads an interdisciplinary treatment team consisting of rehabilitation nurses, physical, occupational, recreational and respiratory therapists, exercise physiologists, case managers and registered dieticians. Working collaboratively, the team sets goals with each patient which may include: stabilization of cardiac/pulmonary symptoms; medication management; independence in self-care; improved walking/ exercise capacity; risk factor reduction. They utilize an array of state-of-the-art equipment and have access to additional specialized services within the hospital, such as the aquatic center, adapted driving and adapted sports programs.
Dr. King earned her medical degree from MS Hershey Medical Center, Pennsylvania State University and performed her residency and fellowship at New York University, Manhattan VA Medical Center, earning board certification in both internal medicine and cardiology. She has assembled an impressive list of publications and presentations, both nationally and internationally. Most recently, and perhaps most importantly, she was a co-author on "Performance Measures on Cardiac Rehabilitation for Referral to Cardiac Rehabilitation/Secondary Prevention Services" and the lead author on "Medical Director Responsibilities for Outpatient Cardiac Rehabilitation/Secondary Prevention Programs," both of which represent seminal works in the field.
Dr. King first became involved in volunteer advocacy for cardiac and pulmonary rehabilitation with the New York State Affiliate of AACVPR. On a state level, she was a founding member of the Southeast Region Chapter and a two-term State President. In 2000, she was appointed to the AACVPR Board of Directors and served as President for the 2005-2006 term. As a demonstration of her impact on AACVPR, she received the Distinguished Service Award in 2003 and she was selected to be in the very first class of Masters of AACVPR.
At Helen Hayes, Dr. King is joined by a strong team of cardiopulmonary professionals in advocating for patients, including John Pellicone, M.D., the hospital's Medical Director and a board certified pulmonologist and Steven Lichtman, Ed.D., an exercise physiologist. Both Dr. Pellicone and Dr. Lichtman are active with AACVPR, serving on an array of committees. In addition, Dr. Lichtman currently serves as the organization's immediate past president.
"Dr. King's accomplishments are vast and she is a strong advocate for the rehabilitation profession and for our patients," says Dr. John Pellicone, Medical Director. "No one is more deserving of this prestigious honor and we congratulate her on this recognition."
Helen Hayes Hospital is the largest and most comprehensive physical rehabilitation hospital in New York State, helping to restore mobility and independence to individuals with physical disabilities and chronic disabling diseases. It is operated by the New York State Department of Health and is affiliated with NewYork-Presbyterian Healthcare System.