State-of-the-Art Shimadzu Sonialvision G4 Arrives at HHH
November 9, 2021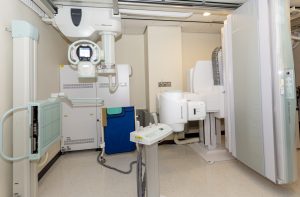 The Radiology Department at Helen Hayes Hospital celebrated the arrival of a state-of-the-art Shimadzu Sonialvision G4 Machine this past spring. During National Radiologic Technology Week, we take a look at this innovative piece of technology which offers enhanced accessibility features for individuals with disabilities, ensuring that all patients have access to crucial radiology services.
The Shimadzu Sonialvision G4 is a multi-functional universal radiography/fluoroscopy system that performs both routine digital radiography as well as fluoroscopic procedures, such as video swallows, on one machine. The machine provides high quality images while minimizing radiation exposure and has a wide range of functions to assist patients with physical disabilities, including advanced table mobility features and the highest weight allowance currently available in radiology equipment.
The table of the Sonialvision G4 can be lowered to 47cm height for safe access or tilt fully upright to allow patients to enter from a horizontal position. It can accommodate patients of all ages and sizes up to 700lbs. For certain exams, such as barium swallow studies, the machine also offers enough space to allow patients to remain in a wheelchair or on a stretcher during testing.
We are grateful to our Radiology Department for heading up this project and to our Engineering and IT Departments who worked diligently to prepare our x-ray room for this advanced technology—a task which included reinforcing the exam room floor to allow for additional weight.
Our upgraded x-ray room and top of the line radiology equipment will aid us in our mission to offer the highest level of services to our patients.
For more information about radiology services available for inpatients at HHH, please contact our Admissions Department at 845-786-4535.