Celebrating Hand Therapy Week – June 6th-12th
June 9, 2022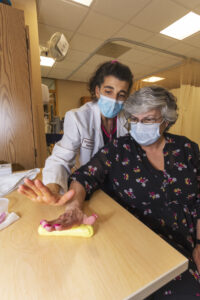 The first full week of June is designated as Hand Therapy Week to highlight the important work of hand therapists and the many benefits of this specialized field of occupational and physical therapy. At Helen Hayes Hospital, we are very pleased to provide these therapy services to our patients recovering from injuries, surgeries, and other conditions which effect the hands, wrists, and arms. Through an expansive array of therapy modalities, our hand therapists help patients regain upper extremity mobility, reduce pain, decrease injury/surgery recovery times, and return to their productive work and lifestyles.
HHH's team of certified hand therapists (CHTs) have met stringent training and comprehensive clinical skill and theory in hand and upper extremity rehabilitation. These highly experienced specialists utilize the latest research and evidence-based treatment techniques to provide customized care for conditions such as arthritis, fractures, sprains and strains, nerve compressions, sports injuries, amputations, rotator cuff injuries, and congenital wrist and hand deformities, as well as post-operative care. Treatments and therapies may include same-day custom splinting, fluidotherapy, wound care, scar and soft tissue management, sensory re-education, and other services aimed at maximizing function, minimizing pain, and restoring quality of life.
At HHH, we are thankful to our CHTs for dedicating their careers to this important physical rehabilitation specialty! The bones, nerves, joints, and muscles are so critical to the performing activities of daily living, and our patients are incredibly grateful to be the beneficiaries of hand therapy's life-changing outcomes.
Learn more about Hand Therapy at HHH HERE.